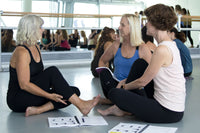 LEVEL 1 EXAM PREP WORKSHOP
Educator: Dyan DeCastro
Language: English
Date: November 1, 2023
Time: 1:30-4:30 p.m. EDT
Duration: 3 hours
Max participants: 23 (A minimum of 10 participants must be registered for the workshop to be held.)
For: Apprentice Essentrics Instructors working on Level 1 enrolled in the Comprehensive or Aging Backwards® entry point
Price in USD: $138.00
Essentrics reserves the right to have a substitute Educator teach the workshop if the scheduled Educator is unavailable due to unforeseen circumstances. This change may be made without notice. Please know that we always make every effort to hold our events as planned.
---
Becoming an Essentrics instructor is an exciting and rewarding process no matter whether you are entering into the fitness industry for the first time or continuing on your path. We're thrilled you have joined us on our mission to get people fit, healthy and moving in every stage of their life and we are here to help YOU reach your goals with Essentrics.

In this workshop you'll be introduced to the principles of Essentrics and the elements that make it a unique rebalancing workout program. You'll be taught each sequence from the 1-hour Pre-Choreographed Workout 1 routine with a detailed breakdown of each exercise and opportunity to ask questions and discuss. We will focus on proper form and alignment, modifications, correct speed, cueing tips, music, and more – getting you ready to teach your Apprentice classes with confidence!

Feel connected, supported and inspired! This is a live online workshop you can follow from your home. There's nothing like joining our interactive events to make your Essentrics training come to life. The maximum of 23 participants allows for an intimate community experience. Spots are limited – sign up now to secure yours.

Complete your Level 1 certification with confidence
What is included in this workshop?
Overview of the Level 1 exam
Introduction to the principles and philosophy of the Essentrics program
Breakdown of each exercise sequence from the 1-hour Pre-Choreographed Workout 1
Focus on alignment, form, speed, modifications, corrections and teaching skills
Opportunity to ask questions and learn from others
Group conversation to share experiences and connect with your fellow Apprentice instructors
A mini break
This workshop is for you if you are:
An Apprentice Instructor working on Level 1 in the Comprehensive or Aging Backwards® certification track
Looking for clarity and assurance about teaching your first Essentrics classes
Needing encouragement, inspiration, motivation and support towards becoming certified and completing your Level 1
Eager to work on and improve your alignment and teaching skills
Keen to gain confidence leading an Essentrics group class (in person and online)
Wanting to feel connected with the Essentrics community