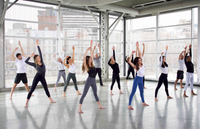 CLASS DESIGN WORKSHOP
Creating Balanced Workouts
Event type: Live virtual workshop hosted on Zoom
Educator: Julia Bentz
Language: English
Date: November 28, 2023
Time: 1:30-4 p.m. EST
Duration: 2.5 hours
Max participants: 23 (A minimum of 10 participants must be registered for the workshop to be held.)
For: Certified Level 3 or Level 4 Essentrics Instructors enrolled in the Comprehensive or Aging Backwards® certification track
Price in USD: $115.00
Essentrics reserves the right to have a substitute Educator teach the workshop if the scheduled Educator is unavailable due to unforeseen circumstances. This change may be made without notice. Please know that we always make every effort to hold our events as planned.
---

Understand what makes a balanced Essentrics workout and how to create your own
As a Level 3 or Level 4 certified instructor, you have probably taught countless Essentrics classes to a wide variety of students, using the Pre-Choreographed Workouts to rebalance the body and help people feel results fast. Now you are working towards building your own personalized Essentrics workouts (and if you are Level 4 certified you may have already done so!).

Starting to design your own Essentrics workout can feel daunting. Where do you start? How do you know that you are in fact balancing the entire body? How can you offer your students the results they are seeking? How do you strike the right balance between flexibility & strength, mobility & stability, relaxation & resistance – for your students as well as within your own body?
There is nothing like joining our live, interactive workshops to make your Essentrics training come to life. This workshop focuses on understanding balance within your workouts, balance in sequencing and proper use of techniques to create new personalized Essentrics workouts that are safe, fun and highly effective.
Feel connected, supported and get your creative juices flowing to bring your own Essentrics workout to life! This is a live online workshop you can follow from your home. The maximum of 23 participants allows for a personalized group learning experience. Spots are limited – sign up now to secure yours.
What's included in this workshop?
Understand the science behind the Pre-Choreographed Workouts
The process of designing a workout, where to start and how to ensure no area of the body is over- or underworked
Learn to tailor workouts to meet personalized and specific objectives
Find out how to strike the correct balance between strength & flexibility, mobility & stability, fast twitch & slow twitch muscles, and relaxation & resistance to achieve better results
How to assess your own body and rediscover your personal sense of balance as your body changes and evolves by teaching Essentrics to others
Grow your client base by building unique and creative classes that will both keep you and your students motivated and engaged
Group conversation to share experiences and connect with your fellow advanced teachers
A mini break
Personalized corrections
This workshop is for you if you want to:
A Certified Level 3 or Level 4 Essentrics Instructor with significant experience teaching Essentrics
Eager to take your current Essentrics class and understanding of balancing the body to the next level
Looking for guidance in how and where to start when building Essentrics workouts
Seeking inspiration and advice on building personalized workouts with a specific objective
Interested in evolving your own Essentrics practice to stay balanced within your own body
Looking for motivation, tips & support from and connection with the Essentrics teacher community
Keen to grow your client base, keeping them (and yourself) motivated and engaged with unique workouts tailored to their needs
Please note that no recording of the event will be made available afterwards.