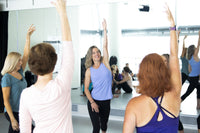 CRITICAL THINKING WORKSHOP
Putting Your Knowledge Into Practice
Event type: Live virtual workshop hosted on Zoom
Educator: Julia Bentz
Language: English
Date: October 26, 2023
Time: 3:00-5:30p.m. EDT
Duration: 2.5 hours
Max participants: 23 (A minimum of 10 participants must be registered for the workshop to be held.)
For: Certified Level 2 Essentrics Instructors or higher enrolled in the Comprehensive or Aging Backwards® entry point
Price in USD: $115.00
Essentrics reserves the right to have a substitute Educator teach the workshop if the scheduled Educator is unavailable due to unforeseen circumstances. This change may be made without notice. Please know that we always make every effort to hold our events as planned. 
---
In this workshop you will hone your critical thinking skills and put into practice all that you have learned on your Essentrics journey so far! In Levels 1 and 2, your focus was learning the principles of how Essentrics rebalances the body. Now as you embark on Levels 3 and 4, you're ready to develop your critical thinking skills by drawing on your base of knowledge in Essentrics anatomy, as well as the many hours of teaching under your belt. This workshop will inspire you to apply your knowledge and enhance your current teaching methods.

Apply your knowledge to your classes with confidence
Together we will assess common student movement patterns and muscle imbalances and learn to think outside the box in guiding students to meet key objectives. You will be encouraged to think beyond your training materials and problem solve on your feet as you work towards applying a more comprehensive approach to your teaching. This workshop is designed to help teachers build trust in their own critical thinking skills to advance their use of Essentrics theory and techniques with the goal of delivering enhanced results to their students!

Feel connected, supported and inspired! This is a live online workshop you can follow from your home. The maximum of 30 participants allows for a personalized group learning experience. Spots are limited – sign up now to secure yours.
What's Included?
Small breakout groups to analyze common mistakes seen in students. We will explore what could be causing the movement patterns and how cueing techniques, demonstrating exercises and communicating with students about the desired objectives can help them achieve desired results.
Comparison of Essentrics TV/Classical Stretch sequences showing how the same exercise can be taught differently using different techniques to achieve specific objectives.
Demonstration of how to work with clients using a comprehensive teaching approach.
You should take this workshop if you want to:
Gain confidence to complete your next level exam
Advance your teaching skills
Develop trust in your critical thinking skills to move beyond "Am I doing this right?" or "Is this in the manual?"
Learn how to teach to client needs
Better analyze your students' bodies and movement patterns
Enhance your understanding of Essentrics techniques and how you can effectively apply them
Understand how to set a class purpose and deliver specific objectives