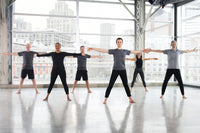 LEVEL 4 EXAM PREP WORKSHOP: Finish your certification feeling strong and inspired | October 20th, 2023
LEVEL 4 EXAM PREP WORKSHOP
Finish your certification feeling strong and inspired
Event type: Live virtual workshop hosted on Zoom
Educator: Inouk Boerma
Language: English
Date: October 20, 2023
Time: 2:00-4:30p.m. EDT
Duration: 2.5 hours
Max participants: 23 (A minimum of 10 participants must be registered for the workshop to be held.)
For: Certified Level 3 Essentrics Instructors in the Comprehensive or Aging Backwards® entry point
Price in USD: $115.00
Essentrics reserves the right to have a substitute Educator teach the workshop if the scheduled Educator is unavailable due to unforeseen circumstances. This change may be made without notice. Please know that we always make every effort to hold our events as planned. 
---
With a focus on strengthening exercises and techniques, Level 4 is designed to tie together the concepts learned throughout the entire certification to reap the full benefits of the Essentrics program for healthy aging, athletic performance, increased energy, mobility and more. In Level 3 you unlocked your body; now in Level 4 it's time to reinforce and stabilize your joints in order to efficiently harness strength throughout your full range of motion—and teach your students to do the same.

Finish your Essentrics Certification feeling strong and inspired!
In this Level 4 exam prep workshop, you will develop skills and strategies for working with students of all fitness levels who wish to gain strength and vitality while maintaining flexibility. You will learn how to react to your students' needs and provide thoughtful and purposeful explanations to rebalance the entire body. At this level, you already have so much knowledge and experience; the next step is to begin organizing your teaching objectives and give thorough rationale for how you are teaching. Most importantly, this workshop aims to inspire you to keep learning beyond Level 4 and continue developing your analytical skills as an instructor.

Feel connected, supported and inspired! This is a live online workshop you can follow from your home. The maximum of 30 participants allows for a personalized group learning experience. Spots are limited – sign up now to secure yours.
What is included in this workshop?
Overview of Level 4 theory and exam expectations
Theoretical explanation of muscular strength, dynamic stability and energy efficiency
Level 4 exercise demonstrations and analysis with modifications
Overview of standing, barre/chair, and floor strengthening sequences
You should take this workshop if you want to:
Gain confidence to complete your Level 4 exam
Deepen your understanding of Essentrics Level 4 exercises and sequences
Investigate the meaning of strength down to a cellular level
Learn to help your students progressively build strength and stability
Provide thoughtful explanations of strengthening techniques – when and how to use them
Bring intention to your cueing
Learn to anticipate and respond to your students' needs
Develop your analytical skills
Feel inspired to complete your Essentrics Certification!