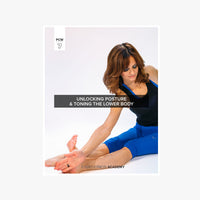 Available exclusively in English/Disponible en anglais seulement
Pre-Choreographed Workouts (PCWs) are the workouts Certified Essentrics Instructors teach while completing the 4-level certification program. PCWs consist of pre-defined exercise sequences set to an eclectic music playlist based on a one-hour class structure. Each PCW has a specific theme while offering a full-body rebalancing workout. All PCWs include a video (streaming online) demonstrating how to teach the workout. The accompanying written content (online) covers detailed exercise breakdowns, teaching tips, target anatomy and more.
NOTE: Please complete your purchase using the same email address to which your Instructor Certification communications are sent.
---
PREREQUISITE
A stable internet connection is required to access this online-only product. We recommend viewing the PCW on a computer (laptop or desktop) for the most comfortable learning experience.
If you are not a Certified Essentrics Instructor, you do not have access to this product.
You must be a Certified Level 1 Essentrics Instructor (or higher) in the Comprehensive certification track or a Certified Level 3 Essentrics Instructor (or higher) in the Aging Backwards® certification track in order to purchase this product. If you do not meet this requirement, you will not be granted access to this product. We will reimburse your purchase minus any associated fees.
RECOMMENDED FOR
Instructors in the Comprehensive track:
This PCW is recommended for Certified Level 1 Instructors and higher.
Instructors in the Aging Backwards® track:
This PCW is recommended for Certified Level 3 Instructors and higher.
---
PRE-CHOREOGRAPHED WORKOUT 7:
UNLOCKING POSTURE & TONING THE LOWER BODY

With Essentrics Co-Founder Sahra Esmonde-White

This workout will create lean, strong muscles with kicks, lunges, and pliés, and release tension in the hips and hamstrings through deep stretches. This workout will also unlock tension in the neck, shoulders and back. Your students will improve their posture as they gain strength and freedom of movement.
Objectives
Increase strength through leg toning exercises
Promote weight loss
Release tension in the upper and lower body
Improve posture
Demographic: All fitness levels
Pace: Medium, fast
Music: Downloadable playlist included. Also available on iTunes and Spotify.
Released: 2015
Workout Variations
60 min Standing & Floor
45 min Standing & Floor
30 min Standing & Floor (Toning Class)
30 min Standing & Floor (Stretch Class)
---
WORKOUT OVERVIEW
Standing
Trademark #1: Spinal Rolls and shoulder mobility
Side-to-Side Lunges: Challenging sequence at a medium to a fast pace
Arms: Involves finger & wrist mobility, forearm strength as well as arm toning
Kicks: Fun and challenging sequences of Kicks working full strength and mobility of the hips
Pliés: Heel Raisers and Ceiling Reaches
Trademark #2: Neck and shoulder release rotations
Calf Sequence: This includes psoas and quad stretches, Bicycles, and Musketeer's Bow for full lower-body flexibility and balance.
Floor
Floor Work: Challenging, sculpting and strengthening exercise sequences for abs, thighs (inner and outer) glutes, and quads.
Floor Stretch: A deep stretch sequence using PNF, targeting all the muscles of the lower body including the IT band, hamstrings, groin and glutes. Finishes with a full song for relaxing neck and spine stretches.
---
ABOUT THE INSTRUCTOR
Sahra Esmonde-White
CEO and co-founder of Essentrics
Essentrics TV workout host

Sahra  Esmonde-White is co-founder and CEO of Essentrics and host of the Essentrics Workout Series created by Miranda Esmonde-White. She has produced over 300 fitness television shows, as well as the award-winning PBS docuseries, Aging Backwards® and Forever Painless—airing nationwide on PBS and American Public Television.

Named one of Canada's top health experts by both Fashion Magazine and Flare, two of North America's top women's publications—her workout series has received several awards in Canada and the UK. Sahra works closely with celebrities such as Canadian actress Sarah Gadon, currently starring in the CBC/Netflix miniseries adaptation of Margaret Atwood's Alias Grace, and Olympians and professional athletes including the NHL's Montreal Canadiens. With a bachelor's degree in economics and graduate studies in public health, Sahra has made it her life's mission to help people lead healthy lives through intelligent fitness and a thoughtful lifestyle. Her most recent project involves reviving her grandmother's gardens and apothecary.


WORKOUT PREVIEW