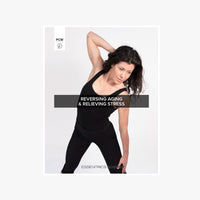 Available exclusively in English/Disponible en anglais seulement
Pre-Choreographed Workouts (PCWs) are the workouts Certified Essentrics Instructors teach while completing the 4-level certification program. PCWs consist of pre-defined exercise sequences set to an eclectic music playlist based on a one-hour class structure. Each PCW has a specific theme while offering a full-body rebalancing workout. All PCWs include a video (streaming online) demonstrating how to teach the workout. The accompanying written content (online) covers detailed exercise breakdowns, teaching tips, target anatomy and more.
NOTE: Please complete your purchase using the same email address to which your Instructor Certification communications are sent.
---
PREREQUISITE
A stable internet connection is required to access this online-only product. We recommend viewing the PCW on a computer (laptop or desktop) for the most comfortable learning experience.
If you are not a Certified Essentrics Instructor, you do not have access to this product.
You must be a Certified Level 1 Essentrics Instructor (or higher) in the Comprehensive or Aging Backwards® certification track in order to purchase this PCW. If you do not meet this requirement, you will not be granted access to this product. We will reimburse your purchase minus any associated fees.
RECOMMENDED FOR
Instructors in the Comprehensive track:
This PCW is recommended for Certified Level 1 Instructors and higher wishing to teach gentler Essentrics classes tailored to a more senior demographic.
Instructors in the Aging Backwards® track:
This PCW is recommended for Certified Level 1 Instructors and higher.
---
PRE-CHOREOGRAPHED WORKOUT 9:
REVERSING AGING & RELIEVING STRESS

With Master Trainer Meg Feeney

This gentle, slow-paced workout is for (new) clients who either have been sedentary for a long time, have been overworked, are recovering from an injury (arthritis, frozen shoulder, sciatica, etc.) or illness and/or suffer from chronic conditions. The slower pace of this head-to-toe workout allows people to become more aware of their body and learn how to adjust their alignment and movement patterns to start moving freely again, out of pain.
Objectives
Relieve tension and pain from all joints
Liberate the spine, shoulders and hips
Teach body awareness
Unlock and strengthen the feet and legs for increased energy
Demographic: Beginners, sedentary people starting to move, participants recovering from injury, illness. Essentrics Aging Backwards® / Essentrics Release & Restore clients
Pace: Slow
Music: Downloadable playlist included. Also available on iTunes and Spotify.
Released: 2016
Workout Variations
60 min Standing & Floor
30 min Standing & Floor
---
WORKOUT OVERVIEW
Standing
Warm-Up
Trademark 1: Gentle, thorough spinal sequence with a focus on unlocking shoulders.
Side-to-Side Lunges: Slow, controlled lunges with arm reaches to rebalance the Top 3 and strengthen the core.
Feet & Hip Strengtheners: Toe and foot articulation that will free up the entire body and improve balance. Ankle strengtheners with hip isolation.
Pliés: Slow and controlled sequence focusing on liberating the hips and stretching the groin while strengthening the quads and glutes. Includes arm reaches for ribs and lower back stretch.
Quad, Psoas & Hip Release: Stretch for quads & psoas, Hip Cleaners.
Hands & Arms: Focus on fingers and hands with wrist mobility to improve circulation and release tension in the joints through PNF. Gentle arm pumps.
Calf Sequence: This includes work for the feet & toes, stretches for the Achilles tendons, calves, and hamstrings for full lower-body flexibility. Standing Bicycle for balance, hip mobility and core strength.
Trademark 2: Shoulder Release & Windmill Sequence for the rotation of the spine. Excellent for frozen shoulder, core stability and posture.
Floor
Abs: Single-Leg Bicycle to strengthen abdominals.
Stretch Sequence: Thorough stretches for the lower back, hips, IT band and long adductors.
Final Release (Standing): Gentle relaxing movements for the neck, ribs and spine.
---
ABOUT THE INSTRUCTOR
Meg Feeney
Essentrics Master Trainer L1
Essentrics TV workout host

Meg Feeney specializes in Essentrics content and certification curriculum development for Level 1 and L1 Aging Backwards®, as well as teacher training support. Meg holds a bachelor's degree in psychology and education from McGill University and has always been drawn to the art of learning, which she expressed during her many years as a pre-school teacher before joining the Teacher Training department at the Essentrics Head Office in 2014.

She is passionate about children and continues to reach them through different personal projects and platforms. She loves connecting with people near and far and motivating them about the joy and power of movement through Essentrics TV workouts, live classes, workshops, teacher trainings and retreats in Montreal and globally. Her expertise lies in helping instructors get started with the program and empowering a more senior demographic.


WORKOUT PREVIEW